A turisztikai desztinációk életciklus-problematikája: az Orfűi példa
Antal Aubert

Pécsi Tudományegyetem, TTK Turizmus Tanszék, Pécs

Tibor Gonda

Pécsi Tudományegyetem, KTK Marketing és Turizmus Intézet, Pécs

Mónika Jónás-Berki

Bicsérdi Arany-Mező Zrt., Bicsérd

Andrea Mókusné Pálfi

Pécsi Tudományegyetem; TTK Turizmus Tanszék, Pécs
Kulcsszavak:
célterület, célterület életciklusa, célterület menedzsment, Orfű
Absztrakt
This article demonstrates the complex issue of the life cycle and renewal of destinations through the example of a destination in Hungary. These days, due to the ever-increasing competition among destinations both in domestic and international markets, this is the central issue in the development and management of destinations, especially where recreational and excursionist functions are dominant. The target area chosen can be found in the hinterland of a regional centre (Pécs), where, in addition to recreational functions, the repositioning efforts of the last ten years led to the more and more important role of sport tourism and supplementary tourism products like ecotourism, heritage tourism, and festival tourism. This versatility provides another challenge for the actors of the destination, as the main pillars of the renewal of the destination concern all actors in the destination (inhabitants, non-governmental organisations, service providers, and municipal self-government) in some way. During the research we thus also carried out a questionnaire survey with the local stakeholders (inhabitants and municipal self-government) and actors interested in tourism (holiday home owners, service providers), in addition to the processing of secondary data sources.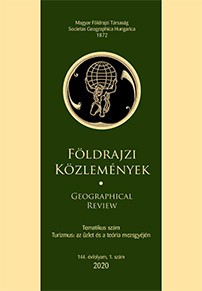 Copyright (c) 2020 Antal Aubert, Tibor Gonda, Mónika Jónás-Berki, Andrea Mókusné Pálfi
This work is licensed under a Creative Commons Attribution-NonCommercial-NoDerivatives 4.0 International License.