"Legitim geopolitika" vagy nagyhatalmi ideológia? – 150 éve született Karl Haushofer
Miklós Mihály Nagy

Nemzeti Közszolgálati Egyetem, Budapest

Zoltán Dövényi

Pécsi Tudományegyetem, Pécs
Kulcsszavak:
Karl Haushofer, geopolitika, legitim geopolitika, tudománytörténet, politikai ideológia
Absztrakt
The present study has been written to commemorate the 150th birthday of Karl Haushofer, the founder of classical German geopolitics. In terms of its theses, Haushofer's practical political geography was academic and was based primarily on Friedrich Ratzel's ideology. Haushofer considered it "legitimate geopolitics" from this aspect. Fascist state ideology adopted several concepts from Haushofer's system, but it applied these concepts with political meaning that was not originally intended. Thus, the theses of Haushofer and his colleagues quickly lost their credibility. In the end, the political system smeared his name and destroyed his family. The authors oft he study remember Karl Haushofer by exploring the academic sources of his geopolitics, and by revealing this German geographer and general's ideas about "legitimate geopolitics," as well as his detachment from political geography. In terms of methodology, the study relies on the latest research findings and on Haushofer's original texts. In terms of sources, the authors demonstrate that geopolitics was not only impacted by the well-known works of Friedrich Ratzel and Rudolf Kjellén, but also by Carl Ritter's work and a number of philosophers as well. The study also examines Karl Haushofer's life and career while providing information about the social and academic influences that led to the establishment of "legitimate geopolitics.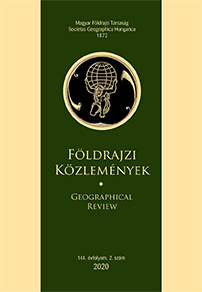 Copyright (c) 2020 Zoltán Dövényi
This work is licensed under a Creative Commons Attribution-NonCommercial-NoDerivatives 4.0 International License.