Mendöl Tibor (1905–1966), a budapesti tudományegyetem Emberföldrajzi Tanszékének alapító professzora
Kulcsszavak:
Magyarország, történeti földrajz, szovjetizáció
Absztrakt
This article examines the career of Hungarian geographer, Tibor Mendöl, who was appointed the first Chair of Human Geography at Eötvös Loránd University, Budapest in 1940. Mendöl's career had a bright start but was shattered following World War II. His story is not unique in Hungary, and in fact was common to other countries in the former Soviet sphere where a generation of geographers shared his fate. The history of Mendöl's career and the reception of his work reaches beyond the significance of a personal life story. It offers insight into twentieth-century Hungarian geography and into Hungarian scholarly life in general. Mendöl's career was emblematic of a period when geography–which had been institutionally strong, vital in public thought in Hungary, and important in a policy context–became marginalised within academia, and came very close to disciplinary annihilation. Mendöl was allowed to retain his chair up to his date of retirement, but his disciples had to leave the university. His efforts to publish his work were in turn hindered, and his scientific theories received strong criticism. Students of geography in Budapest probably did not even hear his name uttered, even a few years after his death. Mendöl's works were even removed from the university curriculum. The output of the more recent Mendöl 'heritage industry,' however, proves that the legacy of his work has not yet been exhausted, and that his story remains relevant. Though the protagonist of this story has been dead for more than fifty years, his spirit (or perhaps his phantom) returns occasionally. Varying attitudes towards his life and work–from rejection, through concealment, to carefully expressed and later more bravely- worded tributes–have always been only partially about professional and subject-based issues. Interpretations of his life and work have also always been matters of historiography and politics.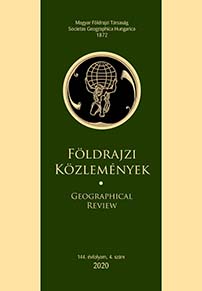 Copyright (c) 2021 Róbert Győri
This work is licensed under a Creative Commons Attribution-NonCommercial-NoDerivatives 4.0 International License.